82 (2012)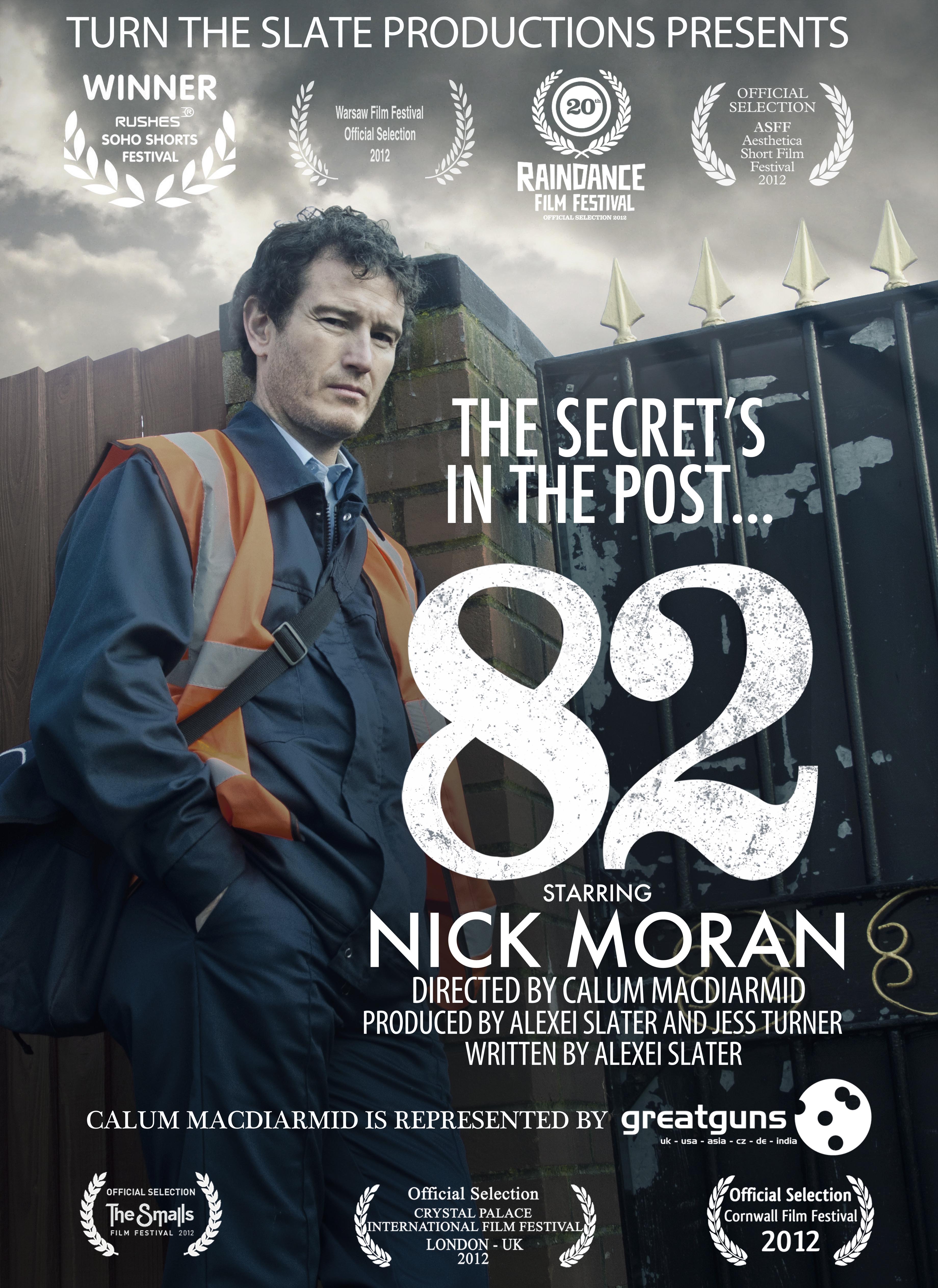 No.1 short film on iTunes UK on its release.
82 has featured on Amazon Prime and is also available on the short platform Omeleto
IMDb Winner of 15 awards.
A postman lets us into his dark world in quiet suburbia…
NOW IN DEVELOPMENT AS A FEATURE FILM – ALL CHARACTER AND STORY RIGHTS EXPRESSLY RESERVED
Key credits:
Director: Calum Macdiarmid
Producers: Alexei Slater & Jessica Turner
Writer: Alexei Slater
Cast: Nick Moran
"An excellent twist, very well constructed and with an absolutely hateful lead character."
Olivia Colman (Double BAFTA winning actress of Peep Show, Broadchurch)
See below for FULL FILM, trailer, awards, festivals, bios, quotes and more!
82 Awards & Nominations
Winner – Audience Award, Soho Rushes Festival UK 2012

Winner – Best Film, Van d`Or Independent Film Awards, UK 2012

Winner – Best Drama, Van d`Or Independent Film Awards ,UK 2012

Winner – Best Screenplay, Colchester Film Festival UK 2012

Winner – Best Director, Colchester Film Festival UK 2012

Winner – Best UK Short, Screen Stockport Festival UK 2012

Winner – Best Short Film, Crystal Palace Film Festival UK 2012

Winner – Best UK Short, Lift-Off London Festival UK 2012

Winner – People`s Choice Award, Perpetuum Mob Fest BEL 2013

Winner – Best European Indie Short Film, Euro Indie Fest FR 2013

Winner – Best Short Under 10 Mins, Victoria Indie Fest AUS 2013

Winner – Best Short Narrative, Crossroads Festival USA 2013

Winner – Gold Remi Award, Houston Worldfest USA 2013

Winner – Best Short Film, Norwich Film Festival 2013

Winner – Best Thriller, Limelight Film Awards UK 2013

Honourable Mention – East End Film Festival UK 2013
Nominated – Best Short Film, The Smalls Festival UK 2012

Nominated – Short Grand Prix, Warsaw Intl Festival POL 2012

Nominated – Best Intl. Short Film, Dresden Festival GER 2013

Nominated – Best Short Film, East End Film Festival UK 2013

Nominated – Best Short Film, Bornshorts Festival DEN 2013

Nominated – Best Short/Actor/Horror, British Horror Fest UK 2013

Finalist – Leamington Underground Cinema Short Film Prize 2013
82 – Official Festival Selections & Public Screenings
Aesthetica Short Film Festival UK 2012 – http://www.asff.co.uk/
Annapolis Film Festival USA 2013 – http://www.annapolisfilmfestival.net/
Atlanta Shortsfest USA 2012 – http://atlantashortsfest.com/schedule.html
Best of International Short Films Festival FR 2013 – http://www.bestoffestival.com/programme.html
Bornshorts Film Festival DEN 2013 – http://bornshorts.com/
British Horror Film Festival UK 2013 – http://www.thefilmfestivalguild.com/#!bhff2013/cpyl
British Shorts Film Fest, Berlin GER 2013 – http://www.britishshorts.de/programmEN.html
Cinema Perpetuum Mobile Short Film Festival BELARUS 2013 – http://filmfest.by/2013/
Colchester Film Festival UK 2012 – http://colchesterfilmfestival.com/whatson/
Cornwall Film Festival UK 2012 – http://cornwallfilmfestival.com/
Crossroads Film Festival, Mississippi USA 2013 – http://www.crossroadsfilmfestival.com/
Crystal Palace Intl Film Festival, London UK 2012 – http://cpiff.co.uk/
Curious Arts Festival, UK 2014 – http://curiousartsfestival.com/
Detmold Intl. Short Film Festival, GER 2013 – http://www.fest-der-filme.de/
Dresden Intl. Short Film Festival, GER 2013 http://www.filmfest-dresden.de/english/home.html
East End Film Festival, UK 2013 http://www.eastendfilmfestival.com/
ECU Festival Barcelona, Athens, Rio De Janeiro 2013-4 – http://www.ecufilmfestival.com/?p=23000&lang=en
European Independent Film Festival, France 2013 – http://www.ecufilmfestival.com/
Florida Film Festival USA 2013 – http://www.floridafilmfestival.com/
Hackney Film Festival, London UK 2012 – http://hackneyfilmfestival.com/
Houston Worldfest, USA 2013 – http://worldfest.org/
Inverness Film Festival, UK 2013 - http://2013.invernessfilmfestival.com/welcome/
Kerry Festival, IRE 2012, 'Best of Fests Programme' – http://www.kerryfilmfestival.com/
Lake City Intl. Short Film Festival, INDIA 2013 – http://www.lisff.com/
Leamington Underground Film Festival UK 2013 – https://leamingtonundergroundcinema.wordpress.com/
Liverpool, Los Angeles & Las Vegas Lift-Off Festivals 2013 – http://www.liverpoollift-off.com/
London Independent Film Festival 2013 – http://www.londonindependent.org/
London Lift Off Festival UK 2012 – http://www.londonlift-off.com/
London Short Film Festival UK 2013 – http://shortfilms.org.uk/
Long Night of Short Films ROM 2013 – http://www.nineoclock.ro/long-night-of-short-films-in-bucharest-saturday/
Macon Film Festival, Georgia USA 2013 – http://maconfilmfestival.com/
Naperville Independent Film Festival USA 2013 – http://www.naperfilmfest.org/
New British Film Festival, Moscow RUS 2012 – http://www.ukfilms.ru/2012/ru/show/1754
Norwich Film Festival UK 2013 – http://www.norwichfilmfestival.co.uk/
Pontino Short Film Festival ITA 2013 http://www.fpdc.it/wjs/
Promax Short Film Fest UK 2012 – http://www.promaxuk.com/promax-short-film-festival/
Raindance Film Festival, London UK 2012 – http://www.raindance.co.uk/site/
Raindance Roma ITALY 2013 – http://www.raindance.org/raindance-does-rome/
The Reel UK & the Source Presents Netherlands 2012
Screen Stockport Festival UK 2012 – http://screenstockport.co.uk/filmfestival.html
Seattle Shorts Film Festival USA 2012 – http://www.seattleshorts.org/
Short and Sweet Festival – Edinburgh, Cape Town 2012 – http://shortandsweet.tv/
Short Film Marathon – Moscow RUS 2013 – http://www.coolconnections.ru/ru/projects/festival/135
Shuffle Film Festival , London UK 2013 – http://www.shufflefestival.com/index.html
Soho Rushes Festival, London UK 2012 – http://sohoshorts.wordpress.com/
The Smalls Festival, London UK 2012 – http://www.thesmalls.com/
Traverse City Film Festival USA 2013 – http://www.traversecityfilmfestival.org/
UK Film Festival 2012 – http://ukfilmfestival.com/festivalprogramme/
Van d`Or Independent Film Awards UK 2012 – http://www.cannesinavan.com/film-festival/
Victoria Independent Film Festival, AUSTRALIA 2013 – http://www.viciff.com/
The Village Film Festival UK 2013 – http://www.villagefilmfestival.co.uk/
Warsaw Intl Film Festival POLAND 2012 – http://www.wff.pl/en/
West Chester Film Festival, Philadelphia USA 2013 – http://www.westchesterfilmfestival.
Zero Film Festival London UK 2012 -  http://www.zerofilmfest.com/
Zero Film Festival New York USA – 2013 - http://www.zerofilmfest.com/
Quotes
"This is a piece you would use to show people how to structure a short film. Really well executed and perfectly shot. It takes you by surprise all the time, culminating in that final twist which made me gasp out loud. Nick Moran's acting is impeccable. Perfectly framed, concise, witty (funny, even), brutal and completely unpredictable. It's a cut-throat razor of a film. Look forward to Calum MacDiarmid's future work."
Tim McInnerny (Actor - Blackadder, Notting Hill)
"Terrific. Writing. Directing. Really well done. Surprised how good it is. Really impressive stuff. Well done to you guys. Terrific work."
Sacha Gervasi (Writer – 'The Terminal' & Director – 'Hitchcock')
"From a sequence of short films, ranging from the bad to the bizarre, 82 leaps forth stridently with a quality which is unquestionably of its own."
www.nouse.co.uk (York University coverage of Aesthetica Short Film Festival)
"The film is the perfect formula for an award-winning short which has already seen success, winning the Audience Award at Rushes Soho Shorts," said the judges. "Six minutes of a great script, fine performances and clever direction equals the 2012 Van d'Or for Best Film. Huge congratulations to Calum and crew."
www.pictureville.net
"The (Rushes) Audience Award went to British production 82, directed by Calum Macdiarmid and produced by Alexei Slater, Jessica Turner and Turn the Slate Prod. Ltd"
www.screendaily.com
"The standard of entries was exceptionally high, and selecting an overall winner (82) had the jury arguing late into the night. It was a privilege to experience such a diverse range of films showcasing the unique and passionate spirit of independent film, and the quality of the entrants is a vindication of the Van d'Or awards and the positive impact they can have."
Gurinder Chadha (Director – Bend It Like Beckham)
 Director's Statement
One of my key ambitions in the making of 82 was to make something truly entertaining. This may sound like an obvious desire, but having done the short film circuit the year before with my first film Worship, I noticed a certain trend towards films that were overly 'worthy' or preachy. Often film makers had a message that they were passionate about but lost the audience in trying so hard to tell this obscure, or indulgent story. For me the production of 82 was an exercise in either keeping the audience laughing, curious, or shocked.

"Calum
Cast and Crew
Calum Macdiarmid – Director, 82
Calum graduated from Kingston with a degree in illustration and animation. His work first caught the attention of MTV, who hired him initially as an illustrator but quickly moved him into directing idents for the network. He produced a series of award winning work for MTV before freelancing on a variety of mainstream brands including Channel 4 and Living/Bravo/Virgin1. His last short film 'Worship', a stunning piece of work that explored Jungian ideas, dream imagery and the collective subconscious, won several awards on both sides of the Atlantic including Gold for best short at the Promax awards and Best Newcomer at the Soho Rushes Festival, London. Calum also specializes in underwater film and photography as can be seen in work for Living TV and Rosemount Wine. Since joining Great Guns, Calum has produced work for agencies such as RKCR / Y&R, M&C Saatchi and Wieden and Kennedy. For film and TV, Calum is represented by Curtis Brown Talent Agency.
http://www.imdb.com/name/nm4139907
'The Postman' – Nick Moran
Nick Moran`s career began with Roger Daltrey and Chesney Hawkes in Buddy's Song. In Lock, Stock, and Two Smoking Barrels (1998), he shared the screen with Jason Statham, Dexter Fletcher, Jason Flemyng, Vinnie Jones and British rocker Sting, the last of whom played the role of his father, JD. Moran co-starred with John Hurt in New Blood (1999), and also starred with Joseph Fiennes, Sadie Frost and Tara FitzGerald in Rancid Aluminium (2000). In 2001, he played the role of Aramis in The Musketeer, a film loosely based on Alexandre Dumas` classic novel, The Three Musketeers. The film co-starred Catherine Deneuve, Tim Roth, Mena Suvari and Stephen Rea. He appeared as Scabior in Harry Potter and the Deathly Hallows – Part 1 and Part 2. Moran co-wrote the play Telstar with James Hicks, a dramatisation of the life of Joe Meek, one of Britain's early independent record producers, who had a massive worldwide hit with the Tornados' 1962 Telstar single. The play was directed by Paul Jepson and was staged at the New Ambassadors Theatre, London, 21 June-12 September 2005. A screen adaptation of the play, directed by Moran, was released in 2009. Con O'Neill reprised his stage role as Meek; Kevin Spacey played his financier, Major Banks. After his directorial début in Telstar, Moran went on to film The Kid, an adaptation of Kevin Lewis's book of the same name. The film stars Rupert Friend, Ioan Gruffudd, Natascha McElhone and Liam Cunningham. In 2013 he appeared in the hit ITV drama Mr Selfridge, alongside Jeremy Piven [Entourage].
http://www.imdb.com/name/nm0602941
'Mrs Walker' – India Wadsworth
India`s credits include Hustle [BBC], Fresh Meat [Ch4] and recently the role of the Warlord`s Daughter in The Dark Knight Rises [2012] directed by Christopher Nolan.
http://www.imdb.com/name/nm2684473
'Number 50' – Nick Read
Nick has been acting on stage regularly since 2006, including appearances in Romeo & Juliet and The Tempest for the Young Shakespeare Company.
http://www.imdb.com/name/nm5124151
Director of Photography – Andrew Boulter
Andrew has worked throughout the world as a DOP for the last 20 years filming thousands of commercials, music videos, corporate films, the odd TV documentary and a few short films.
http://www.andrewboulter.com/
Camera Operator – Gareth Hughes GBCT
Gareth`s credits include The Borgias [SKY], Inspector George Gently [BBC] & The Bill [ITV].
http://www.ghcamera.com/Site/Home.html
Hair & Make-Up Design – Sally Miura
Sally Miura is a highly accomplished Make Up Artist and Hair Designer with credits including 'Les Miserables', '51 Degrees' & 'Vampire Academy'. http://www.sallymiura.com/
Costumes – Rozi Hogger
Rozi has over 6 years experience working in TV, film and theatre with credits including Silent Witness [BBC].
http://www.imdb.com/name/nm2763977
Editors – Nick Saunders, James Demetriou
Nick and James handle all in-house editing at Great Guns UK Agency.
http://www.nicksaunders.tv/
Stunt Coordinator – Steen Young
Steen's credits as stunt performer include Snow White and the Huntsman [2012], Sherlock Holmes: A Game of Shadows [2011], X-Men: First Class [2011] and Robin Hood [2010].
http://www.steenstunts.com/
Stills Photographer – Daniel D. Moses
As well as stills photography, Dan is a filmmaker working in music videos and short content.
http://www.danielmoses.com/
Press Coverage
http://www.edgware-today.co.uk/news.cfm?id=16167
http://cinemaroll.com/action/82-2012/
http://www.1883magazineblog.com/calum-macdiarmids-new-short-film-82/
http://artwednesday.com/2012/07/03/an-interview-with-calum-macdiarmid/
http://www.nouse.co.uk/2012/11/16/calum-macdiarmid-commercialism-and-creativity/
http://www.screendaily.com/awards/long-distance-information-wins-at-rushes-soho-shorts/5044599.article
http://www.screendaily.com/festivals/shorts-from-milner-guerrier-brothers-zamatov-to-screen-at-aesthetica/5047870.article
http://www.screensocial.com/255230568101457921/
http://www.pictureville.net/2012/09/a-short-postmans-tale-wins-van-dor.html
http://corporate.ford.com/news-center/press-releases-detail/pr-cannes-in-a-van-and-ford-announce-37137
http://www.thereel.net/news/2012-07/641
http://www.filmjuice.com/london-short-film-festival-2013.html
http://loonatikordrinks.blogspot.co.uk/2012/10/special-mention.html
http://www.onepointfour.co/2012/12/07/visual-therapy/
http://blog.horizonvumusic.com/?p=9464
http://www.norwichfilmfestival.co.uk/82
http://www.twistedcentral.com/2013/01/the-short-film-82-has-released-first.html
http://shortsightedcinema.com/reviews/82-calum-macdiarmid/
http://influxmagazine.com/82-review/
http://www.gola.co.uk/borninbritain/calum-macdiarmid/
http://cinemachords.com/short-mission-82/
http://vodzilla.co/reviews/uk-itunes-short-film-review-82/