Consultancy
Turn The Slate Productions is offering a new service for short filmmakers. Having received numerous approaches to act as a Producer on short film projects, Alexei is not actively looking to take on full producing roles on new short films, however, with a wealth of knowledge, experience and relationships garnered from working in the industry since 2005, it made sense to put some of that to good use.
WHAT IS IT?
The process of putting together a short film is often a long and complex one; taking more time and effort than most aspiring filmmakers realise from the outset. Short films can take 18 months or even two years to complete. They demand commitment, energy and passion from the filmmaker. This is not to mention the originality, creativity and artistry of the filmmaking also required to help the film stand out from the crowd.
Some of the tasks covered will include:
Coming up with the initial idea, and writing a script

Developing and honing the script to be shoot-ready

Sourcing potential finance and collaborators

Putting together the right cast and crew

Preproduction and organising the shoot and logistical requirements

Production, problem solving and making the most of your time

Finding the right offline editor and thinking about the cuts of the film

Finishing sound post production and colour grading

Submitting to film festivals and/or eligibility for potential awards

Online distribution and marketing and press.

Thinking about what your film can do for you, and how it might help your future career.
Whilst there is no one way to go about making any film, Turn The Slate Productions is now available to act as a consultant (and potentially also as an executive producer depending on the project) for filmmakers looking for extra guidance and expertise. With 7 short films completed since 2011 that have had 170+ film festival screenings around the world and collected approx 40 awards or nominations, Turn The Slate Productions knows a thing or two about the short film world. Alexei brings his knowledge of the festival circuit, above processes and also hands on experience licensing over 100 top short films for next generation broadcaster Little Dot Studios` short film platform 'Tall Tales' launched in 2017.
FEES
This is a new service and will be subject to change, but for a project meeting, feedback on the script, the project as a whole and guidance on the way forward, the fee is £250. For an even more hands-on consultant (in a potentially executive producer capacity) to advise from initial concept through to completion of the film, fee starts at £500. Fees might change depending on the scope of the project.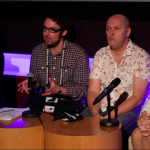 Alexei also available for script feedback and proof reading services..get in touch.
CONTACT
To get in touch about a project, use the contact page or the following email: turntheslateproductions@gmail.com